While I liked the idea of electric scooters better (and should have four but that's a long story) this does work. I still have a bit more work to do on the way the battery is mounted but I did take it out for a spin and it does well.
Let me offer more details.
I bought a motor and controller kit plus the battery. The motor is 1000 watts at 48 volts. The motor and controller cost about $160. I decided to get a "huge" battery hoping I can ride the bike to Panajachel and back. It is a 48V, 15 Ah LiION battery which cost about $330.
I then went looking for a used bicycle locally but used cost more than new. This one cost Q1100 (about $150) and came with both a front and back rack. The back rack is sturdy enough to support the batteries and controller.
The main problem was that the rim with the electric motor in the middle was damaged in shipping. I received it months ago but the box was not damaged so I didn't bother to look at it until the battery arrived. Well, it clearly took an interesting blow to the box to damage the rim but not the box. But, it happened.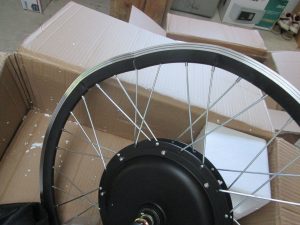 As the damaged rim is a 26″ one with 36 spokes and so is the one on the new bicycle, I figured I could just remove the motor and put it on the bicycle rim. Well, yeah, I could but it was a pain and took viewing a youtube video to see how to put the spokes on. But, it worked.
Hooking everything up was easy and the kit came with spiral tubing that could be used to keep all the wires together.
I build a frame out of aluminum angle for the battery and put masonite in as a bottom. But, I am going to change the bottom to some closed cell foam to offer a bit of shock mounting. The frame is attached to the rack with a couple of steel straps — one across and one lengthwise.
Left to do is replace the bungee cords with some real straps and build a cover for everything. And then, ride it to Panajachel.